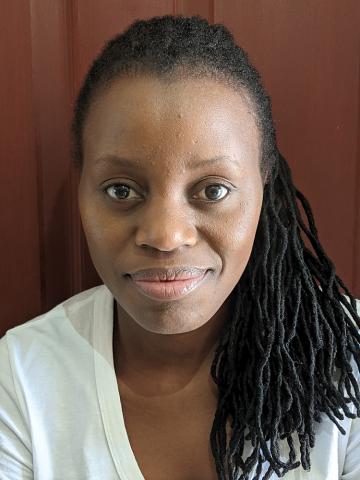 THEATR 1400 Acting for Non-Majors
by appointment
Education
BA Education, Makerere University, Kampala, Uganda.
MS Theatre Studies, Illinois State University, Normal, IL
Bio
Nalubowa Aidah is a Ugandan theatre director, playwright, and instructor. She directed plays, facilitated devised theatre workshops, and created numerous pieces with communities in the districts of Mukono, Kayunga and Kampala in Uganda, and in Canada.
Most recently she directed full productions and staged reading of plays including, Last Stop by Michael Stuart, By the River by Meaza Worku, Blood by Adong Lucy Judith, The Arrow by Abishek Majumdar, Missouri Horror (zoom) by David Crespy and Monitcello (zoom) by Madeline Puccioni for Playhouse Creatures Theatre New York, and more. In 2018, her monologues were performed as part of the End Slavery Monologues in Tennessee, USA and her plays have received readings and performances at the Mid America Theatre Conference and Illinois State University
Nalubowa is the founder and content manager of The African Theatre Magazine. She is committed to the recording, preservation and the representation of African art and culture, and people.